Mantas from
The last in our first series of webmaster interviews takes us to Montreal to talk with the always insightful Mantas, owner of Rabbit's Reviews. Find out why review site owners are so secretive about their... scripts!
Webmaster Vault (WV): Fill us in on the basics: name, age, location, ballpark income, and favorite Muppet's character.
Mantas: Name is Mantas M. I'm 28 and I live in Montreal, Canada. Sorry, can't reveal income. Gonzo would be my favorite character, cause he's the crazy mofo in the cast.
WV: What originally piqued your interest about working in the adult field?
Mantas: When I decided to work in adult I had already amassed about 300GB of porn on my PC. It was only a matter of time before I found a way to make money with my hobby.
WV: After working in the adult field for the past number of years, what keeps things fresh and motivating for you?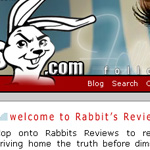 Mantas: New ideas and projects always get me excited. Seeing their potential and finding ways to achieve them is the most fun part of the job.
WV: Many people seem to believe they can spend a couple of hours putting together a rag-tag adult site and become rich. How much time and effort do you put into maintaining Rabbit?
Mantas: Not anymore it seems… I missed those golden years myself as I only got into adult in 2002. Now not only you have to build something solid, you also have to know how to market it. For the first 2 years I worked on 12 hours per day, 7 days a week.
WV: What innovation over the past several years has revolutionized the way you conduct business online?
Mantas: I think RSS feeds have really helped us deliver our content to both surfers and webmasters in a much more efficient way. Our affiliates can build a complete review site by just using our feeds. Also, blogs have set a new standard of personalization. Publishers and readers are able to interact in a much closer fashion.
WV: What do you believe is going to be the next big "thing" to hit your area of the industry?
Mantas: I think the development of a simple yet appropriate review site script will drastically change the review site landscape. It hasn't happened yet, but I'm sure it's coming. Problem is that few review site owners want to mass market their scripts.
WV: What is it that sets your work apart? How is it original, and how does it stand out against its competitors?
Mantas: I think one of our strongest skills is writing. While some webmasters try to cut corners and outsource their writing, we only hire the best writers we can find, whose first language is English. Style and honesty are the most important factors in building reader loyalty. We pride ourselves on both.
WV: For any new webmasters out there, what should their main focus be when starting up their first adult project(s)?
Mantas: Research, research and research! Don't start a new site just because you think you can do it better -- unless your adult project is a hobby. In that case, let your personal interests decide your focus. Otherwise, don't waste any time building a site without first having a solid marketing plan.
WV: What is your best piece of advice for new (and seasoned) webmasters as they try and make their web sites(s) their primary source of income?
Mantas: I would advise to take things gradually. Don't expect any miracles down the road, I wouldn't quit my job based on some future traffic deal I might score. After the first year of business, I evaluated at my monthly profit growth. I decided to do this full time only when I felt confident enough that I could sustain such growth for at least another year.
WV: Is there anything that you would like to inform our readers about that you are involved in and excited about, a place we can see your ideas in action?
Mantas: We recently launched Fetish Fish (http://www.fetishfish.com). I'm really proud of this site; it has very strong branding and potential.

Reader Comments: (3 posts)
Vinny says:
My hat is off to your astute command over this topia-brcvo!
April 26th, 2017
at 8:44am EST
Rating:
Cheyanne says:
It's a plesuare to find someone who can identify the issues so clearly
April 22nd, 2017
at 2:48pm EST
Rating:
Bobbie says:
Pecfret shot! Thanks for your post!
April 22nd, 2017
at 4:39am EST
Rating:
Post Your Comments